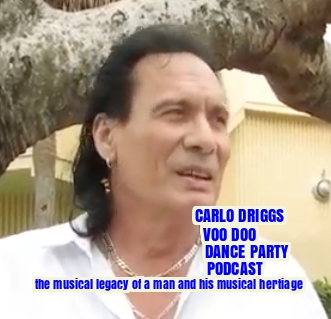 So I have decided until the whole covid thing is over and my co host Greg Van Cott and Michael Arillo can return I am only going to do podcast with no narration at all. 
Details about the music is down below. 
CARLO DRIGGS VOO DOO DANCE PARTY 20
Copyright Disclaimer: Under Section 107 of the Copyright Act 1976, allowance is made for "fair use" for purposes such as criticism, comment, news reporting, teaching, scholarship and research. Fair use is a use permitted by copyright statute that might otherwise be infringing. Non-profit, educational or personal use tips the balance in favor of fair use.
Podcast contribution by Doug Peterson a.k.a. Louie Go Home 
 Internet broadcast show....VVM's (The Wall) 20th Anniversary, Veterans Day Nov 6, 2002 - Washington DC. Part 2 
1. RIDE TO THE WALL
2. HUNGRY
3. LIKE LONG HAIR 
Band Rehearsal tape from Nov 22, 1984 
Carlo, Dann, Omar, Doug, Ron 
4. LET'S GO CRAZY 1 - Prince cover
5. LIGHT MY FIRE 1 - The Doors cover
6. LIGHT MY FIRE - piano / keyboard only 
7. INSTRUMENTAL / TUNING / LEVEL SETTING 
8. SILVER MACHINE ? - original work up 
9. BLUE JEAN - Bowie cover
10. BITS AND PIECES - Dave Clark 5 cover
11. COMING TO AMERICA - Neil Diamond cover 
12. LET'S GO CRAZY 2 
13. LIGHT MY FIRE 2 
CONTACT ME AT shinysquirrelpodcast@gmail.com
INSTAGRAM ACCOUNT: SHINYSQUIRRELPODCAST
& SECRETPLACESLASVEGAS