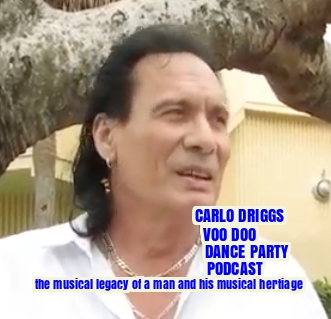 CARLO DRIGGS VOODOO DANCE PARTY 19
Copyright Disclaimer: Under Section 107 of the Copyright Act 1976, allowance is made for "fair use" for purposes such as criticism, comment, news reporting, teaching, scholarship and research. Fair use is a use permitted by copyright statute that might otherwise be infringing. Non-profit, educational or personal use tips the balance in favor of fair use.
1) THE CHRISTMAS SONG
2) JINGLE BELLS
3) WHITE CHRISTMAS 
White Christmas is the one track that he mentioned in the book.
Side B of Tape  
4) COUNTRY GIRL FROM TENNESSEE 
This one is a total unreleased Raider song. He mentioned it once to me when I was asking him about any other Raider tracks that might exist. I asked if there was a studio take on it. And he said probably but he had no idea where it would be at. 
Well it is now found. 
5) BACKING TRACK INSTRUMENTAL of "SHE MAKES ME WONDER"
Side A of the Tape
6) DREAMS ARE FOREVER
7) SHE MAKES ME WONDER 
8) BACKING TRACK INSTRUMENTAL of "DREAMS ARE FOREVER" * played forward 
9) Track 8 played backward as it was found on the tape. 
10) "Doug Peterson aka Louiegohome" CONTRIBUTION 
American Band (joined in progress), Just Like Me, Steppin' Out / I'm Not Your Stepping Stone
VVM's (The Wall) 20th Anniversary, Veterans Day Nov 6, 2002 - Washington DC
Tape Labeled "RUMORS DEMO
11) MEDLEY SNIPS OF SONGS 
CITY NIGHTS / NOBODY'S FOOL / COULDN'T WAIT / 
TOO LATE / ONLY YOU / MY LOVE IS LIKE A LOAN
12) YOU ARE MY WEAKNESS
13) DRIVE ME CRAZY 
A TAPE WITH NO LABEL AT ALL
These next two songs are weird. There are lot of sound effects on the songs. Something much like the effects on the Bowie Medley that has been played before. 
It is not even Carlo singing. But it is the same song twice with some different lyrics.  Seeming that it was in Carlo's tape archive he had som
14) HAPPY BIRTHDAY DAVID #1
15) HAPPY BIRTHDAY DAVID #2 
Not sure who David is. But might be able to figure it out with some detective work.  
youtube channel of the past podcast with no talking
https://www.youtube.com/channel/UCcyPrU-CUZigygUtmoVk1VQ/search?query=driggs